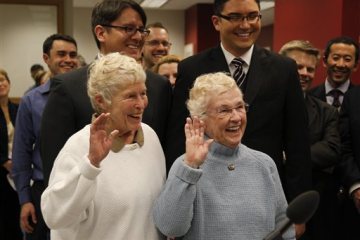 LGBT people need to be aware of recent developments that change how Medicare and Medicaid work for them.
First, the Supreme Court's legalization of same sex marriage in all states changed how Medicare and Medicaid evaluate the eligibility of same sex spouses for both programs. Depending on the program and the individual's circumstances, the changes can be positive or negative.
Additionally, Medicare has begun covering Gender Reassignment Surgery and issued new rules that protect transgender older adults from sex discrimination in healthcare.
Three new fact sheets can help consumers learn how these changes may affect them, whether they are LGBT individuals married to someone of the same sex, or transgender individuals needing to access health care. These fact sheets were produced in partnership with SAGE (Services & Advocacy for Gay, Lesbian, Bisexual, & Transgender Elders), the SHIP National Network (State Health Insurance Assistance Programs), and Administration for Community Living (ACL).
On March 1, 2017 the Social Security Administration (SSA) announced that it would reopen its decisions to deny spousal or survivor's benefits to individuals who had been married to someone of the same sex, and whose marriage wasn't recognized because of a discriminatory state or federal ban on marriage. See POMS-for-Same-Sex-Marriage  to learn more about this ruling (requires Acrobat Reader).
LGBT Resources for Seniors
Challenges and barriers are faced by seniors who are lesbian, bisexual, gay, transgender and gender nonconforming individuals. The barrier to marriage was eliminated as a result of the overturn of provisions in the Defense of Marriage Act (DOMA) effective June 26, 2013. However, there are still social barriers that cause problems for many LGBT seniors. The following organizations provide information and support for all LGBT seniors that can help them understand and overcome these additional barriers:
Use this link to download Adobe Acrobat Reader if needed.