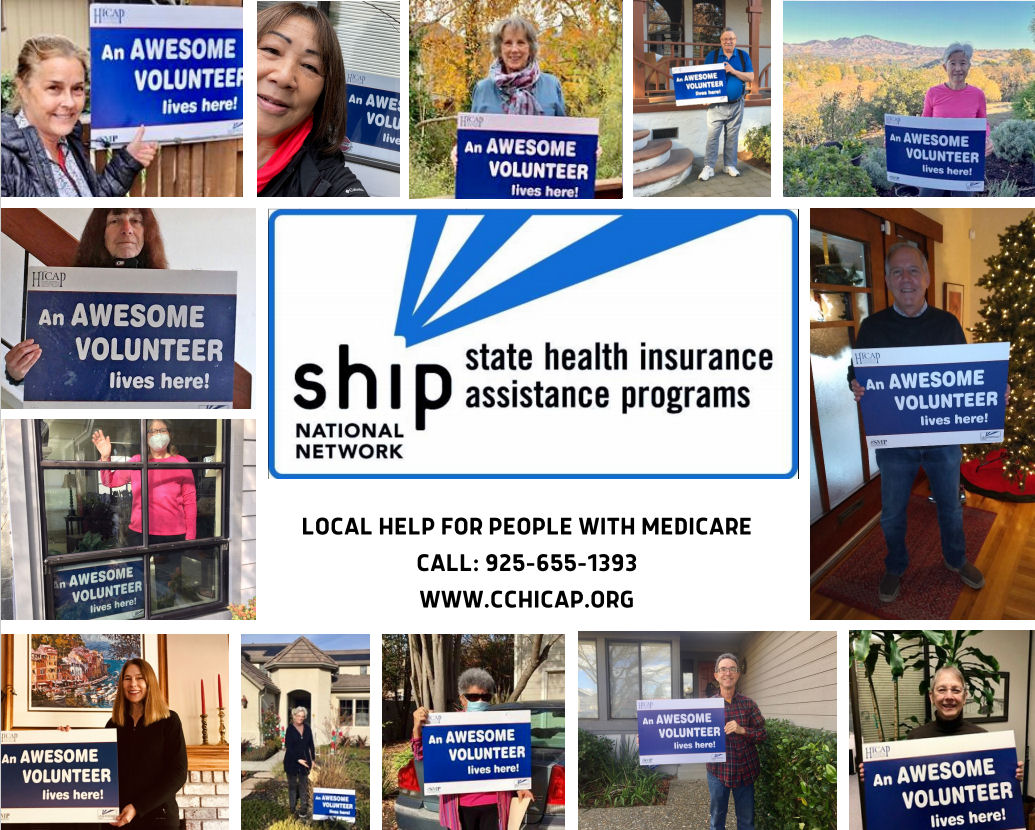 Become a HICAP Volunteer
Please first read the following information about HICAP as well as the job description and then follow the instructions at the bottom of the page.
Being a HICAP counselor is extremely rewarding, as our current counselors will attest. The satisfaction of doing the work as well as the camaraderie and support of the program are reasons why our volunteers tend to stay with us for years. That said, it's also true that the training is demanding, and it takes months or longer before new counselors are working independently. All this is to say that in both the expectations and rewards, being a HICAP counselor is different from many other types of volunteer activities. We hope to find individuals who are seeking this type of program.
Why is HICAP needed?
Medicare enrollment rules and coverage, as well as basic and supplemental insurance plans seem and can be very complicated. HICAP provides unbiased information to help clients make the best choices for their individual health care needs. These services are provided by volunteers who are trained to understand Medicare and the many options available to those eligible for Medicare. HICAP volunteers do not make recommendations; they do not tell clients what they think the 'best' Medicare plans might be for their situation; instead, they provide information to allow each client to make their own fully informed decisions so they can select the Medicare options that the client thinks will best fit their needs.
Why are HICAP volunteers needed?
Contra Costa County HICAP needs local volunteers to provide counseling and advocacy services. As a volunteer you'll help seniors and people with disabilities who have questions about Medicare and other health-related polices and issues. You don't need to have experience with insurance or Medicare. All you need is patience, good listening skills, and the ability to understand, keep abreast of and communicate complex information clearly and effectively. HICAP provides training about Medicare and supports you in your work. Our volunteers get the satisfaction of helping people in your community make the best choices for their individual health care needs.
What's it like to be a volunteer counselor?
Our clients like to talk about their experiences with Contra Costa HICAP counselors. Read some of our client testimonials. View videos of  Volunteer Stories from HICAP and SHIP counselors across the country.
What does being a HICAP volunteer involve?
HICAP volunteers counsel seniors and disabled adults to help them understand their consumer rights and evaluate their needs for insurance policies and medical health plans. HICAP services are offered free of charge by phone, Zoom or email, and at Senior Centers and other outreach sites throughout Contra Costa County. In addition to counseling, volunteers have the opportunity to do research on Medicare and other health insurance topics, develop program materials, and make community education presentations to local groups. The benefits you'll receive by being a Medicare Volunteer Counselor are numerous: personal contact, continued learning, problem solving and a chance to make a difference in the lives of those in need.

Here's what some of our counselors say about being a Contra Costa HICAP volunteer:
Carol L: "I love that you're continually learning new things and helping people understand them."
Rose C: "I enjoy everybody I meet in these sessions! Each one teaches me something about life, too."
John L: "I have been an active volunteer for about 1 year now. Yesterday at Antioch made all the learning worthwhile. All 3 clients were just about moved to tears with what I thought were pretty simple problems. …And so thanks to all of you from your support, wisdom and guidance that makes my volunteering so rewarding."
Janet N: "My time at HICAP this year has been extremely rewarding. Working with… you is a joy. I appreciate your knowledge and the desire to continually improve the process of providing counseling to clients."
Vida P: "I started working with HICAP shortly after I retired from my first career and have never once regretted my decision. Not only is HICAP a worthwhile endeavor but the staff and my colleagues are a constant source of inspiration, motivation, humor in the face of potential tragedy, optimism in spite of their pragmatism, and most important, they are dedicated problem solvers who encapsulate the concept of 'there must be a way.' I am truly humbled by this group and the thousands of people they… volunteer to help. I feel really privileged to be a part of it."
Tell Me About the Training
Our initial training is extensive, consisting of a combination of classroom, computer and experiential learning. We hold one training session each year, generally from late Feb. to mid-March. Expect to do online modules first, at your leisure, followed by about 25 hours of initial classroom training. This is followed by at least ten hours of observing experienced volunteers in actual counseling situations. Livescan fingerprinting is required. A national criminal background check will be performed. Approximately six more hours of classroom training on how to use the HICAP and Medicare.gov computer systems is also necessary. After you are registered you will start mentored phone counseling in the office and possibly site counseling as well. State law requires 12 hours of continuing education and 40 hours of counseling time annually to stay registered. We meet the continued education requirement through monthly in-service meetings by Zoom or at our Pleasant Hill office, usually on the first or second Friday of the month.
I'm Interested… what do I do next?
Click here to read the HICAP Counselor Job Description then if you're still interested follow the instructions below.
Volunteer Interest Form: click here to submit a volunteer interest form or phone Leah McIntosh, the Contra Costa County HICAP Volunteer Coordinator, at 925-655-1390 or Pam Brown at 925-402-4802.

Were you invited to an interview? If you are coming for an interview please download and print this form, fill it out, and bring it with you to the interview.
---